News
1.9.20
I'm just as good as updating this as usual.  🙂  I've been having some email issues over the last week or so but they should all be fixed by now.  I've also been building more amps new batches of the KGSSHV, KGST and PureBipolar are ready now.  The Carbon is also in stock and ready to ship out and I'm working on a new batch of the Carbon CC.  Not sure when they will be ready though as it is a complete redesign from the last batch.
04.08.20
While the effects of the pandemic are subsiding here in Iceland I'm taking stock and trying to replenish my stock.  The hardest hit is the Carbon as the silver units are out of stock and I have just one black one left.  I'm trying to build more black units soon but I'm not sure if I can do more silver units as my entire supply system here in Iceland has collapsed.  The two main companies I worked with on the chassis front have closed down and no real replacements for them. Still I'll find a way around that.  🙂
18.04.20
Time for an update as this pandemic seems to be passing here in Iceland but we are still quite limited when it comes to shipments.  Some stuff like the adapters for the HE60 are out of stock since I'm missing some parts that I should be able to get soon.
I've also used this time wisely and finished up one amplifier project, the TT small triode amp and one more 007tA has been converted to 6S4A tubes and CCS plus a normal bias output.
14.03.20
I've recently been getting questions about how COVID-19 is affecting me.  Iceland has been hit pretty hard but I'm fine and mostly stay at home until this blows over.  This means I'm only shipping once a week but that's the only impact.
Now being home a lot means I can get some stuff done.  🙂  I've now finished the last of the Lundahl transformer boxes, some more black SRD-7's, modified Stax SRM-007tII amps and a bunch of other stuff.  Getting in new parts has been an issue so I'm mostly finishing up projects that were mostly in progress before.
26.01.20
I'm trying to update this page as I make any updates to the site to here goes.  🙂  The Megatron V2 is now available plus I've added some used amps and headphones to the site as well.  I'm also working on more SRD-7 boxes as they just stick around for long.
05.01.20
I can't believe it has been over a year since I posted an update here but such is life.  My day job has been keeping me plenty busy plus family stuff so I haven't has as much time to spend on this as I'd like.  That being said, some new stuff is being worked on and I now have a new batch of the Octave II's in black in stock and in black too.  There are also the new SRD-7 boxes in stock now and the new Lundahl based version of them.
All the other amps are in stock and I've spent most of the year to keep them in stock.  There are a few new designs I've been working on that hopefully will see the light of day this year.  They are mostly different rather than being "better" than any other as doing specialty amps has always been a calling for me.
12.11.18
I have finally received some balanced RK50 volume pots so a regular Carbon CC is in stock right now.  I also have two B-stock Carbon amps on my "used" page with a 10% discount.  I've been swamped with some home improvements recently so not much going besides that but they should be over soon so back to new designs.
14.09.18
Time for an update.  While I wait for some balanced RK50's for the Carbon CC's I made some single ended ones and they are up for sale now.  Same performance but a better fit for anybody with a single ended source.  I also updated the Stax parts page with some of the stuff I have in stock and I will add more stuff soon.
15.08.18
Wow, I wonder why I even have the news part as I always forget to update it.  🙂  There are plenty of things that I've been working on but progress has been slow on some fronts due to part shortages.  Some of the necessary semiconductors have been out of stock for a year now but things should hopefully be getting better.  I've also streamlined the offerings a bit as the KGSSHV mini has been discontinued as it made no sense to offer it along with the cheaper variant and it is an utter pain to build.  Also makes sense to make some room for new, different offerings.  I'm right now working through my backlog of half-finished projects so some new updates soon.  Also as soon as I get more RK50 volume controls from Alps there will be a new batch of Carbon CC amps.  I'm also going to try something new, a couple of Carbon CC amps with just RCA inputs.  So many of my amps are being used with single ended sources only so it makes sense to at least try this.
While on the subject of the Carbon, there is one thing I really didn't want to address but I really have to.  That's all the other Carbon amps out there which I have nothing to do with.  First some history, it is a common misconception that the Carbon was designed by Dr. Gilmore which isn't true.  It is 100% based on his work and with his input but the part that makes it a Carbon was all done by me.  He even called me a bit nuts for attempting to do this.  🙂  This is important as only that first draft of the Carbon design was released to the public in the forms of the PCB's we drew up.  The Carbon has been further refined as a design but none of those changes were ever published and never will be.
The reason I felt compelled to write this is because I'm a bit tired of support requests for builds I have nothing to do with.  People are unhappy with the amps or something has gone wrong and come to me for help, which I can't give.  I have frankly no idea how these amps are built as none of the builders had the decency to come to me to ask permission to use my intellectual property for financial gain.  I for one don't have a problem with others building my designs but they have to be built to my standards so that might be why nobody asked.  Also any claims that my Carbon is the same as one built using the stock circuit is utter BS.  They are not the same and the build quality can be shockingly bad.
Sorry for the rant but this has reached a point where I have to point this out as the forums are filled with misinformation.  This has also brought about a major change which will be put into action soon and I will talk about at a later date.
18.12.17
The site was recently moved and upgraded so things are still in a bit of a flux.  Please let me know if there are any pics missing that I might have missed.
In other news a new batch of Pure Bipolars is being tested in the run-in rack and I should have some more Carbon CC's soon.  I recently made a new version of the old KGSS amp to celebrate it being 15 years since I built my first one.  Initially it was just supposed to be that one unit but I was persuaded to make a few more so they will be on the site soon.  They make the KGSSHV mini look like a giant so a really tricky amp to build.  🙂
27.10.17
Finally some news.  Last week I was invited by Sennheiser to spend a few hours with the new HE-1 setup and I decided to bring something to compare against: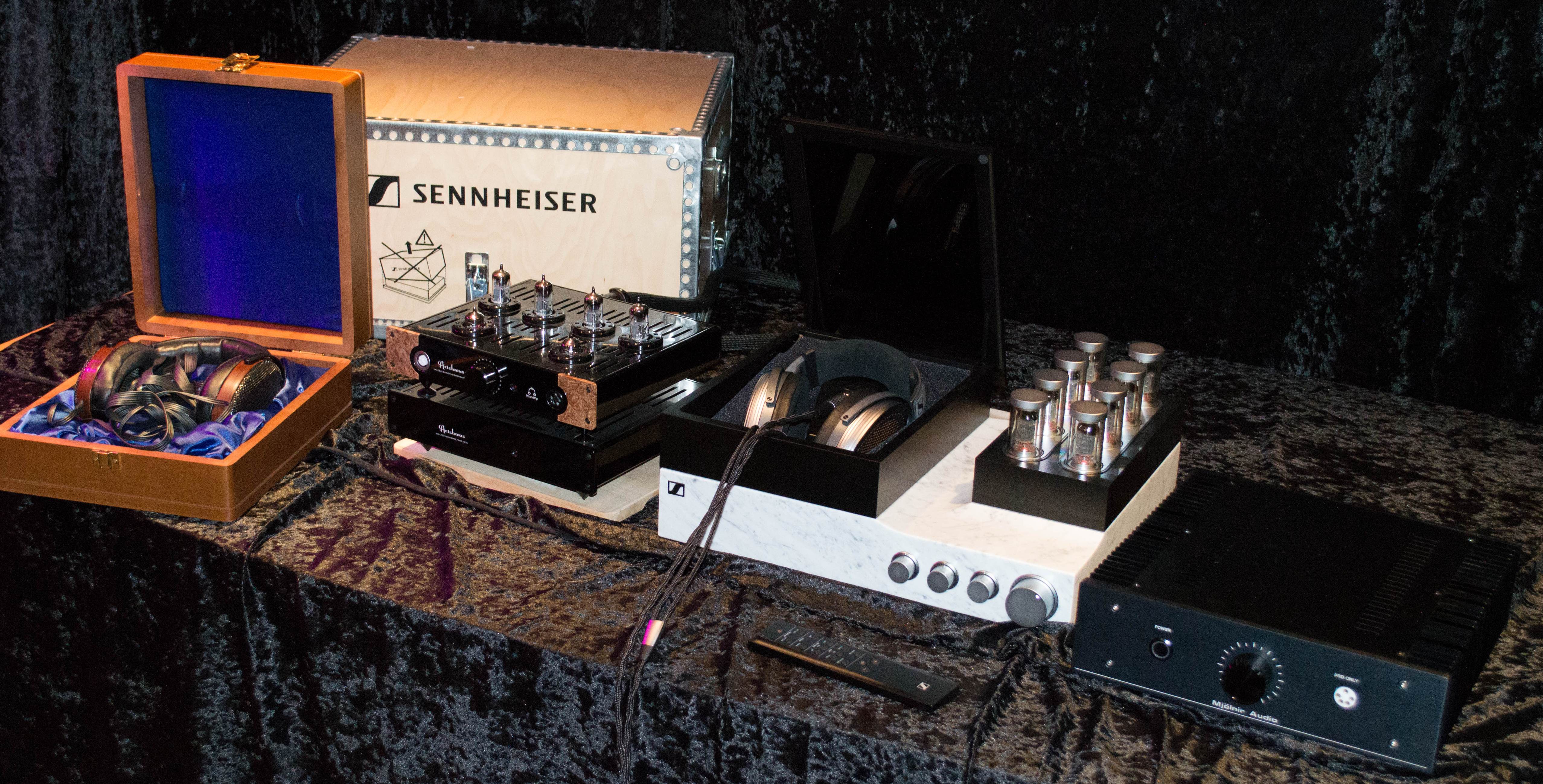 So I brought my HE90 "Orpheus" and an Aristaeus amp plus the best Stax setup, a black Carbon with a port modded SR-007Mk2.  I used the internal dac in the HE-1 as a source and well.. impressions were mixed.  The sound quality is just not gripping for me and the amplifier inside the cups is just problematic.  I wrote up some impressions here:
https://www.head-case.org/forums/topic/13076-sennheiser-he-1/
In other news, the KGSSHV mini is finally back in stock and the new Novem amp is coming along nicely.  Some issues with the heater supply but it will all be sorted out soon.  The Dynalo has been super popular and the Alps RK27 units are soon back in stock.  I'm also managing to keep up with the Carbon demand and some more CC amps should be ready soon.
06.09.17
Now is the first "proper" review of my amps up on Innerfidelity:
https://www.innerfidelity.com/content/katzs-corner-episode-18-icelandic-wonder
This was never supposed to be a review though.   Bob and I have been corresponding for a few years now on and off about various things and he just asked if he could borrow an amp to give the SR-007's a better chance against the new dynamic competitors.  I was happy to oblige and offered him my personal Carbon and also asked him if we wanted a Pure Bipolar too to even out the playing field.   He accepted and after a few months with both amps he's bought the Pure Bipolar and has received a fresh new Carbon which I'm sure he'll purchase as well.  Kevin Gilmore was gracious enough to give my "old" Carbon a good home.  🙂
29.06.17
I really suck at this whole news thing but life has sort of been in the way.  Two surgeries of the past 7 months plus all the health crap that comes with it means I haven't been able to spend a lot of time actually building things.  Plenty of design work though but it will take time for all of that to come to fruition as finished items.  I also spent a week with Kevin Gilmore in April where a lot of stuff was discussed and some basic designs done.
In terms of amps, I've kept working on a "budget" version of the KGSSHV and the second batch of prototypes are all but ready.  This project is a large departure as it is mostly done with surface mount parts so I can have the boards assembled for me.  Couple of big hurdles are left such as finalizing the design and the whole chassis work but I'm getting there.  I want most if it to be done here in Iceland which will make it a bit more expensive but also gives me more control over the process.
I'm also working on new variations of the Carbon CC project and the newest batch of the regular Carbon got a small upgrade due that work.  Nothing major, just further refinement of the excellent design.  There are some further Carbon version being planned plus the inevitable tubed version.  There will also be more Megatron amps as the demand for that one is quite high.  Beast of an amp but also the best all tube amp we've ever done.
I'm also working on a couple of new projects, one a special amp just for the SR-009.  It's an all tube design based off an old Stax circuit but modernized.  First amplifier PCB has been built and tested so the project is well on its way.  I'm also down to the last Octave amp so I might use some chassis parts I have in stock to build a cheaper solid state amp.
Then there is done dynamic work going on as well.  The PureBipolar has gotten nothing but praise so I'll keep on developing that design plus I'll probably do a cheaper amp as well.  I currently have a few Squarewave amps in stock and I might continue with them.
Finally, as I write this a Stax SRM-T8000 is being shipped to Kevin Gilmore so we can evaluate this "flagship".  I bought the first used amp in Japan so it will be interesting if this warrants the high pricetag.  We've already done our own version of how we think the circuit is but we should know in about a week if it is any good.
Now for what has taken up most of my spare time in the last few months…I'm working on my own headphones.  Yup, full electrostatic goodness and I'm already up to prototype nr.6 at this point.  The actual design is pretty much ready in my head but first of I'm dealing the the practical stuff such as choosing the right coating materials, the right glue, stator design, sourcing earpads etc. etc.   This project will be ready when it is ready so no rush but I'm working on it.
29.09.16
Time for a quick update.  I'm working on some new amps but in the mean time I added a bunch of used stuff from collection plus some solid silver cables I made for the Carbon CC project.  The Carbon has reached a point where I can keep them in stock and gives me time to work on other things.
29.07.16
I so suck at updating that it isn't funny.  🙂  Anyway, a few new amps have been added and more are in the works.  I will be building more dynamic amps over the coming months and I'll probably build more Carbon CC units as the demand is there.  Now I'm back to enjoying the nice summer we are having here in the frozen north.
11.05.16
Just a small update now.  While I was working on a new batch of Octave amplifiers I took the last two units I had in stock and gave them a bit of an update.  People didn't like the old blue transformer covers so they are gone now in favor of these textured black units.  Much better…  🙂
23.03.16
To mark the second anniversary of this site I felt a bit of an update was in order.  A few announcements as I've been busy.  🙂  The all black version of the Carbon is finally here and I hope to make more as soon as is possible.  There is also the all new Carbon CC which will be an ongoing project to build completely over the top versions of the Carbon circuit.  The plan is to make one version to test it out and then move onto something else.  It is not supposed to surpass the regular Carbon in any way but act more a playground for any crazy ideas I have kicking around.
Also, there are finally some dynamic amps.  I put them in the "Special projects" category but they are the Dynalo Mk1 and the long awaited Dynalo Mk2 aka PureBipolar.
01.03.16
My move/renovation has been taking longer than expected but I'm finally getting settled.  All of this has delayed the new dynamic amps I'm planning but I should get it all back up and running soon.
20.01.16
The sale is over now.  I'd like to thank everyone for their interest and making this a lot of fun.  Stay tuned soon for some actual news.  🙂
17.01.16
The sale has been a phenomenal success and due to popular demand it will be extended until midnight (0:00 UTC) on Tuesday January 19th.  Thanks for all the interest and this has been a lot of fun.
Stay tuned soon for some crazy news such as me finally building some dynamic amplifiers and other madness…  🙂
15.01.16
While I was updating the list I just wanted to say thanks for the frankly overwhelming response to the moving sale.  There has been a lot of interest and my supplies are starting to run low on all of the amp types.
12.01.16
I will be moving to a new house at the end of the month so I thought I'd celebrate that and try to cut down some of my stock at the same time by having a moving sale.  This only applies to amps that I have in stock so the KGSSHV Carbon isn't included as I simply can't keep up with demand for them.
I'm not going to change the actual product page so the new prices will only be listed here.  The sale will go from noon (12:00 UTC) today 12th January and until midnight (0:00 UTC) on Sunday the 17th of January.
All items included will be discounted 15% and have free worldwide shipping. Of some types there is just one unit available but for others there are a few in stock.  I only need to do final checks on them before shipping so they will be ready to go within one week of final payment.
Given that there is virtually no profit margin on my amps (just enough to cover any potential service issues) I won't be doing this again but it will be fun to try it.  🙂  Anyway here is a list of the amps for sale and the sale prices:
Full size KGSSHV (450V):
Silver front panel: 2805$ with free shipping worldwide
Mini KGSSHV
Silver front panel:  2550$ with free shipping worldwide
Black front panel:  2635$ with free shipping worldwide
KGST:  2550$ with free shipping worldwide
KGDT:  1870$ with free shipping worldwide
The Octave:  1658$ with free shipping worldwide
SRD transformer box:  468$ with free shipping worldwide
The same discount will also apply to the used amps and special projects.
Special KGDT:  1615$ with free shipping worldwide
RAKK DAC:  383$ with free shipping worldwide
APL 3910 tube output player:  765$ with free shipping worldwide
Contact me at spritzer@mjolnir-audio.com if you are interested.  First one to pay for any unit gets it and payment is via Paypal or wire transfer.
I will edit this post if or when any of them are sold out.
20.10.2015
I'm as active as ever with these but I've been busy over the last few months.  I built up a nice stash of KGSSHV mini's and I'm completing the last of the full size KGSSHV's.  Once these are gone there will only be the mini simply because people are more interested in the small desktop amp.  There have been other updates too as the Carbon design has progressed from the large chassis to the new mini Carbon which will take over as the normal unit.  There might be a new completely over the top full size Carbon in the future but it is months and months away and will cost a fortune.
The KGST has been out of stock for a while now but that should change soon as I'm working on new units.  The new Megatron is also slowly progressing and I did finally finish my own T2DIY unit which had been waiting for years and years.  It does sound good but I do prefer the Carbon to it in every way.  The Carbon is simply more honest and neutral while also being more powerful.
On the horizon is me moving so builds will slow down until that ordeal is over but I'm also working on some dynamic amps which will eat up a large part of my time.
10.06.2015
I'm doing stellar work with this news portion of the site.   An update every six months or so isn't that bad…  🙂
Now it's all about the new KGSSHV Carbon and ways to adopt that circuit for a wide range of uses.  At it's core this is a new take on the KGSSHV design using Silicone Carbite (SiC) output devices.  These are essentially J-fets on steroids and the most linear transistor possible.  The circuit borrows a lot from the BHSE and T2 and they are very close in terms of sound quality.  The Carbon is just much, much easier to live with, nothing to adjust – it just works and is rock stable.   The first one of these sold right away but I will be making more soon.
Other amps that I'm working on are a new take on the Megatron.  This one will feature the same power supply as the Carbon plus some very nice parts.   I will also build at least one Circlotron but it is one scary amplifier so it is firmly on the back burner.
Plenty of other cool amplifier circuits that I've been waiting to try out so things are looking good.
04.12.2014
Work continues on new amp designs plus I'm keeping KGSSHV's in stock.  I've also been spending way too much money acquiring the out of production parts needed to build the Blue Hawaii and the legendary SRM-T2.  I will occasionally build a Blue Hawaii or two but there are no plans to build the T2 as of now.  It's nice to have the option to do so though.
What's currently in the works is a new medium sized KGSSHV with internal heatsinks.  It came out of an exercise to see how small I could make a stereo circuit board.  A new run of KGST's is also under way plus my take on the GES circuit, fully balanced naturally.
15.08.2014
Finally found some time to update the site.  Way, way overdue so now I have a products section, a used gear section and a small bit about the DIY parts I stock.
 24.04.2014
Well I'm working on this site so I guess that's something…